Hertfordshire Wedding Magician, Christopher Whitelock, has got to know all the top wedding venues in the county, having been asked to perform at weddings held in them many times. If you are looking for wedding reception entertainment ideas, there are various ways an experienced wedding magician like Christopher can add to a day that already has a lot of magic in it!
Table magician Hertfordshire
A Hertfordshire Wedding Magician like Chris is Perfect for keeping guests entertained as they wait for their meal. Christopher's table magic will delight friends and families so much, they won't realise they're sitting at those tables that will be last to be served their food!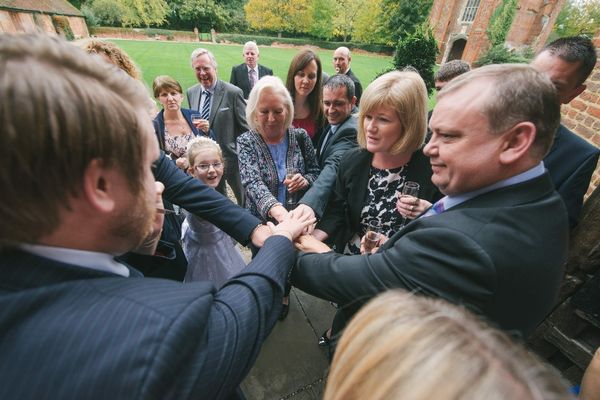 "Your magic was amazing, you were a wonderful addition to our big day. Our guests have not stopped talking about you. We will certainly be recommending you and will have to have another party for you to come and perform at. Thank you once again." Helen and David Mason
Close up Hertfordshire Wedding Magician
During your drinks reception, Christopher will wander around your guests to perform close up magic to small groups. Your friends and families will soon be laughing and talking and calling people they know over to have a look at what's going on. His magic can transform flagging energy levels into a lively atmosphere.
"Christopher's entertainment was sublime. Everyone kept crowding round him to see the next miracle being performed. Top entertainment worth every penny. I have seen a lot of magicians but Christopher's magic blows them out the water." Heather and Brian Mugridge
Wedding venues Hertfordshire
Thanks to his familiarity with the main Hertfordshire wedding venues, Christopher has built up good relationships with the organisers. He works closely with them behind the scenes to ensure everything runs smoothly and he is ready to perform as soon as he is needed.
"Hi Chris. We wanted to say thank you for being a part of our wedding at Pendle Manor on Saturday. You blended in with our guests seamlessly mixing and mingling with all age groups. Highly professional from start to finish. Your magic was phenomenal and must be seen to be believed. We were worried how our evening and day guests would interact but your magic was just the thing we needed. 110% recommend Christopher for your wedding entertainment." Mark and Amy Foster
Christopher is a Hertfordshire Wedding Magician who has performed regularly at the following Hertfordshire wedding venues:
Milling Barn, Bluntswood Hall, Buntingford, Hertfordshire
Brocket Hall, Welwyn Garden City, Hertfordshire
Cloisters, Letchworth, Hertfordshire
Coltsfoot Country Retreat, Datchworth, Hertfordshire
Fanhams Hall, Ware, Hertfordshire
Hanbury Manor Marriott Hotel & Country Club, Ware, Hertfordshire
Hatfield House, Hatfield, Hertfordshire
Hertfordshire Golf & Country Club, Broxbourne, Hertfordshire
Hitchin Priory, Hitchin, Hertfordshire
Tewin Bury Farm Hotel, Welwyn, Hertfordshire
Pendley Manor, Tring, Hertfordshire
Sopwell House, St Albans, Hertfordshire
The Gatsby, Berkhamsted, Hertfordshire
Micklefield Hall Hertfordshire
The Mansion House, Hertfordshire
To find out more about Chris's wedding magic packages, please call him on 07747 141238 or use the online contact form.