Magic TV show on Channel 5
The magical duo are back on British televisions with their series Penn & Teller: Fool Us now on Channel 5.
Penn and Teller have been performing together for four decades and aside from being in the genre of 'magicians' are very difficult to label. Outrageous and funny, these award winning magicians who have headlined in Broadway, Las Vegas and around the world. They've also become well known for tracking fakes and frauds in their US TV series Penn & Teller: BS! which was nominated for 13 Emmy awards.
In the UK, they came to our attention as the "Bad Boys of Magic" for revealing the previously hard-kept secrets of their trade. And it's from this vein that the Fool Us format was born.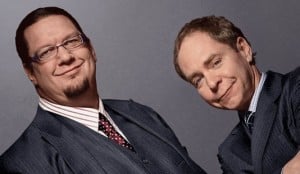 The programme format is that professional magicians are invited to perform for the duo who then have the task of working out how it was done. If they fail to do it, the magician is rewarded with a trip to Las Vegas to perform as Penn & Teller's opening act at their world famous show.
Most will inevitably fail in their task – it's almost impossible to kid a kidder! – but some will genuinely fool the pair.
The thing with this programme, and Penn & Teller themselves, is that we get to find out 'how it's done'. But rather than spoiling the trick, many think it enhances it. Knowing how much work, practice and skill goes into a good trick results in huge respect from audiences who have a greater understanding of the work and the amount of practise that went into it, not to mention the dexterity and ability they have to seamlessly pull it off.
If you haven't already seen Penn & Teller: Fool Us, check out the Channel 5 website for listings and catch-up on previous episodes.
Alternatively to try out an interactive magic trick for yourself, take a look at the video below:
And if the programme has inspired you to have a go yourself, how about a magic lesson from one of Hertfordshire's greatest close-up magicians. Also perfect to give as an unusual gift experience to anyone aged 8 or over.