Do you have a budding magician in the family? Would you like to conjure up the kind of thoughtful Christmas (or birthday) gift you can't buy in the shops? How about treating them to a magic lesson?
Magic appeals to children and grown-ups alike, so it doesn't matter how young or old your budding Dynamo/Richard Jones is, they're bound to appreciate the opportunity to learn a bit of magic themselves.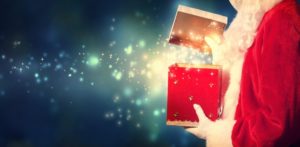 When it comes to gifts, what do you get the person who has everything? Often give others something we secretly want ourselves, so maybe you're the one you should be treating! Maybe you'd love to surprise everyone at a party, or at school or fiends down the golf club by learning magic.
What to expect
During an hour's lesson, I teach a mix of close-up magic tricks. The tricks are designed to be easy to learn and, like any kind of magic, can be practised afterwards to perfect the sleight of hand and produce a real wow factor. All the props and materials are supplied and the student can keep after the lesson. I think the best part of my job is producing gasps of amazement and astonishment on the faces of my audiences, especially as these are usually followed with broad smiles and lots of laughter. You can find much more about the magic I perform on my YouTube channel.
Magic boosts confidence
Scientists have even discovered that learning a bit of magic can boost a child's confidence and social skills. Dr Richard Wiseman from the Open University organised magic lessons for school children aged between 10 and 12, and found some interesting results. "Showing and teaching the children magic tricks encourages skills, such as self-discipline – unless you practice magic skills you will fail – and critical thinking. It also helps children to think from another person's perspective, and consider how they are feeling."
It's also a great way to get your child to take an interest in starting hobbies. With so many smart phones and technology, equipping your child with a few tricks can really spark the imagination and help them learn a new skill.
Parties
In addition to one-to-one lessons, I'm also available for bespoke magic lesson parties. This is a combination of magic lessons for all guests as well as a magic show. All ages catered for. To find out more about what's involved in the magic lesson party please do get in contact.
"Hi Chris
Just a quick one to say a big thank you for performing at Anna's magic lesson party. All the girls had a great time and I've had lots of really positive feedback from the other mum's who have all been treated to magic shows. The magic lesson and show was perfect and will certainly recommend you to anyone looking for something different for a party.
Thanks again
Caroline, Adrian and Anna"