If you're planning a work event and you're looking for some fun and unique corporate entertainment – be it an awards evening, post-conference party, an away day to help the team bond, or the office Christmas party – you'll want to make sure it has a wow factor.
The best way to make an event memorable is to book some great entertainment. What you can hire will depend mostly on your budget of course, but if you put enough thought into the type of entertainment that will go down well with your audience, even a modest budget will pay dividends.
Here are my Top 5 entertainment ideas to give your corporate event the wow factor;
1) A Magician
In my experience, magic is the best way of bringing people together at corporate events and parties. When I'm asked to do table magic at meals, I'll liaise with the waiting staff to find out the order the tables will be served, then generally, I'll start doing magic on the last few tables to keep hungry diners entertained and distracted whilst the first tables are being served. I can then move on to the first tables after people have finished eating and their plates have been cleared away.
Sometimes I'm asked to perform a cabaret act as part of the evening's entertainment. When the meal's over and people are feeling happily relaxed thanks to an evening of delicious food – not to mention a glass or two of wine – they're very happy to sit back and be entertained.
I've also been asked to do magic workshops at team building events. They're a lot of fun and you'd be surprised by how many magic techniques can be translated into the business world.
2) Live music
There are literally thousands of singers and musicians covering all genres who are available for hire. You can pick and choose any style you want, from string quartets to heavy metal (mosh pits not included) and everything in between. With large corporate events, you're going to have people with all sorts of musical tastes, so make sure you choose a band with a big repertoire and a good enough understanding of corporate audiences to ensure your evening has something for everyone.
3) Circus acts
You can hire everyone from fire eaters to acrobats, aerialists to contortionists – hire one performer or a selection of acts to create a jaw dropping evening's entertainment.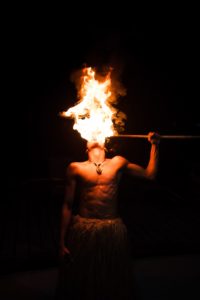 4) Fireworks
If your budget is big-to-enormous, there's nothing like a good firework display to get people talking. And it won't just be the people at your party, it'll be the whole neighbourhood!
5) A Celebrity Look-a-like
Famous people always go down well at corporate events, but they don't necessarily need to cost an arm and a leg. Yes, you can hire a look alike. You can hire Marilyn Monroe, Del boy and even James bond. Add a bit of Hollywood glamour to your event, who doesn't want a photo with David Beckham. You don't have to tell your friends it was not really him.
If you decide magic is the way forward for your corporate event, call me on 07747 141 238 or contact me via my website.