Making your wedding into a fabulous event takes a lot of careful planning. Whilst it is absolutely your special day, you've invited a lot of people to share it with you. Your guests will be from diverse backgrounds and right across the age range; your two sets of relatives will be mingling with two sets of friends, many of whom will have never met before. Whether you're the happy couple or the mother of the bride, you'll want all your guests enjoy the special day too.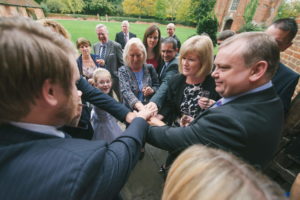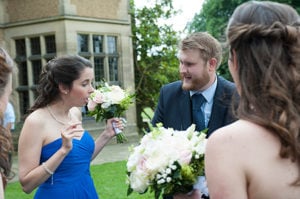 Wedding entertainment raises energy levels
When you combine this diverse range of people with the long schedule of a wedding day, there can be parts of the day where there is a lull in energy. A wedding magician is the perfect remedy for this! Asking a magician to perform during the drinks reception is a great idea as not everyone will be involved in the official photos all at the same time. It's also the time when the newly married couple go off to have their private photos taken leaving guests to look after themselves.
It's also a good idea to have close-up magic between courses during the meal. Not everyone will get their food served at the same time, so magic is a great way to stop people thinking they've been waiting ages to get served (especially if they're on the last table).
In my experience, having a magician at your wedding really helps to break the ice and bring people together. Most of the time I'll be performing close-up magic to small groups of people and often who don't know each other – after I've finished wowing the crowd, I often hear them talking about my show and, of course, wanting to see more. I also find that the people I've performed for will encourage others to join the groups I'm currently with, and very soon all the guests are talking and laughing, and the magical atmosphere is created.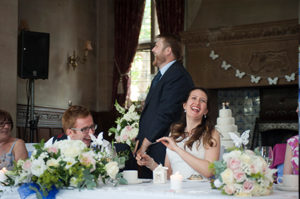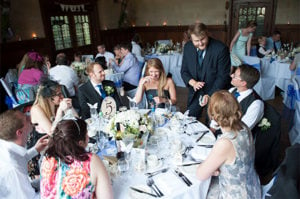 Transition wedding entertainment
Close-up magic at weddings works particularly well in the tricky transition period after the speeches and before the evening reception starts, when the room is being turned around ready for the dancing. The guests who have been at the lunch have had time to get to know each other, and I find most people disburse into the bar or garden and the energy and atmosphere drops. When new people turn up for the night's festivities, they can feel a bit awkward for a while. When I'm asked to performing in this transition period, I can build up the excitement with the day guests and incorporate the new evening guests into the groups I'm performing to. This creates instant rapport between the day and evening guests, so by the time the room's open for the evening, the party's already in full swing!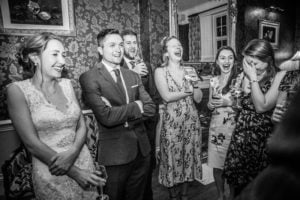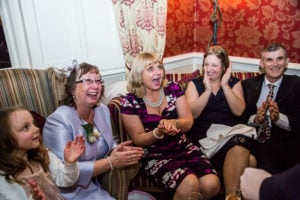 If you want your wedding to have that extra wow factor, hire a top quality magician! I have performed at many weddings and events all over UK including Hertfordshire, Bedfordshire, Buckinghamshire, Essex and London plus around the world, averaging around 100 weddings and celebrity events a year, so I understand how to make things work well. I've developed a range of packages to help every client make their special day into a magical one. Don't just take my word for it, click here to read what some of my happy clients have said, then contact me to discuss what you're looking for and check my availability.