The Kings Head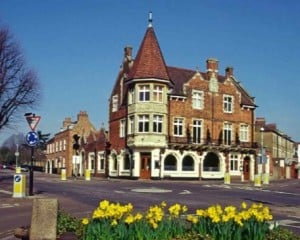 The beautiful Kings Head on top of Winchmore Hill  in North London is the perfect place for a private party or function. With some spectacular function rooms fit for any kind of party and a stunning garden terrace that you can make the most of it's a popular choice and Chris was very much looking forward to seeing it all himself.
The large bar, covered decked garden and vaulted dining room are not the only features that should be mentioned. The gastropub style food and individual private rooms make the venue a must for anyone who appreciates unique style.
Table Magic in North London
Chris was invited to perform a selection of table magic at Paula and Robs very special day last week. It was a beautiful intimate reception full of 50 of the couples close friends and family and Chris was the only entertainment chosen for the day.
Having a wedding magician at your big day is the perfect way to ensure that all of your guests are having a fantastic time whilst letting the Bride and Groom enjoy their big day too. Table magic is great for events that include sit down meals. Chris can mingle with your guests table by table in between courses or whilst everyone is finding their seats to make sure everyone is kept entertained throughout every minute of your day.
Make sure every one of your guests remember your day with an extra big smile on their face as they remember the fun they had being wowed by a magician rather than how long the dessert took to come out.
Let CW Magic add an extra sparkle to your special day, find out more and book today.