If you're planning a luxury wedding and want to get married in classic and opulent surroundings, it's worth taking a look at Moor Park Golf Club in Rickmansworth, Hertfordshire.
I've performed at weddings there a few times and it's fair to say I know the venue quite well by now but I've always been blown away by the classic grandeur of the place. When you step past the traditional colonnade, you're greeted with a stunning and opulent hall that would easily set your wedding apart from any other…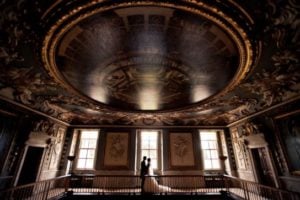 Moor Park's Main Hall (Image Credit: Rob Burress Hampshire Wedding Photographer, Shootinghip)
In addition, there is the Orangery, a standalone venue attached to the main house. It accommodates around 70 people for dinner, and has enough space for entertainment – a magician perhaps?
I recently performed here for the wonderful couple, Holly and Andrew Fink and 80 of their family and friends around their dinner tables. I know from my own wedding day that having many guests can make it hard to speak with all your guests in time. Having a wedding magician is a great way to keep your guests entertained so you don't have to feel like you are rushing to speak to everyone.
"Thank you once again Christopher, your magic was AMAZING. We were able to relax whilst having our photographs taken knowing that our guests were being entertained and wowed. A great magician and a lovely guy. Highly recommended".
The beauty of weddings is bringing together the meaningful people in your life to witness your special moment. So what better way is there to break the ice than to have a wedding magician wow your nearest and dearest?
(Image credit: Rob Burress Hampshire Wedding Photographer, Shootinghip)
You can see lots more of what to expect from a wedding magician on your special day by taking a look at my videos, and if you'd like to find out more about my bespoke services, just contact me to find out about my availability.