If you search for wedding checklists online, you'll be overwhelmed with exceptionally long tick lists detailing every aspect of your preparations, from booking the venue to packing mouthwash in your 'survival kit' for the big day itself.
As a Magician I have performed at over 500 weddings across Hertfordshire, Bedfordshire, Essex and Buckinghamshire, I also got married myself last year, so I have first-hand experience of the excitement that comes with planning your big day.
How long is a piece of string?
A lot of the lists online appear to be working on the assumption you're preparing something on the scale of a royal wedding, follow my top tips and you can't go wrong as I understand that ever wedding is unique, so a one-size list will definitely not fit all.
Tip 1) Your wedding checklist essentially depends on the size of your wedding, how far in advance you're organising it, the venue, number of guests and the few things that will magic your wedding day even more magical
Tip 2) Speaking from my own experience of getting married last year, my advice would be create your own list of things you would like or need to have on your day in whatever format works best for you: spreadsheet, tick list, back of an envelope (possibly a very large one), or download a helpful to do app.
Tip 3) Stay calm and relaxed everything on your list will get sorted in time. After all, some weddings have been organised in just three weeks, albeit for the TV show Here Comes the Bride.
Wedding Entertainment
I have been an International Wedding Magician for over 10 years and my unique & sophisticated style of magic will create unforgettable memories on your wedding. With many guests attending who might not know everyone the wedding entertainment I provide is the perfect ice breaker and a great way to get the guests talking.
With clients including Rod Stewart & Stephen Fry you can guarantee your entertainment will have the wow factor. I also have Public Liability Insurance and that is required by 100% of venues.
Tip 4) The earlier you book the more likely it is I will be free on your date and at a good price tend to get booked up at least a year in advance. Call me on 07747 141 238 to check my availability.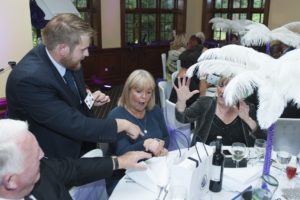 To find out more about my bespoke wedding entertainment packages and mid-week offers please do get in contact. Make sure to check out my videos and testimonials to give you a great idea of what I can offer you on your special day.