I was recently booked to perform at Grace and Stuart's wedding in front of their 100 guests at Vaulty Manor in Essex.
As you will know if you've booked this as your venue, weddings at Vaulty Manor are held in a beautiful light oak Essex barn, parts of which date back to the early 1600s. I performed two hours of magic: the first hour during the drinks reception that was held  in the stunning grounds and the second hour performing in the lovely barn at the tables in-between courses during dinner.
Magic at your Drinks Reception
Grace & Stuart's wedding photos were taking place were taken in the grounds of the manor as it has a gorgeous backdrop with the trees. Magic during the drinks reception is a perfect ice-breaker to bring groups of guests together and to get them talking. Also, as not everyone will be involved with the photos all the time, having some entertainment during this period makes the day feel more magical.
Table Magic
When I'm booked for table magic, I'll liaise with the waiting staff to find out the order in which they serve, and make sure I entertain the people waiting longest first. I can then move around the room to entertain the other tables once the plates have been cleared in readiness for the next course. The excitement and energy of the room builds as I perform from table to table. Guests are talking about the magic and not thinking "when I am going to be served my food?"
"Thank you, Christopher, you really made our day magical. We always knew exactly where Christopher was because all you could hear was clapping and laughter and cheers of amazement from our guests!  Christopher is a marvellous magician as well as being charming and personable. Can't recommend highly enough. We are still baffled as to how our card ended up in a block of ice." Grace & Stuart Ward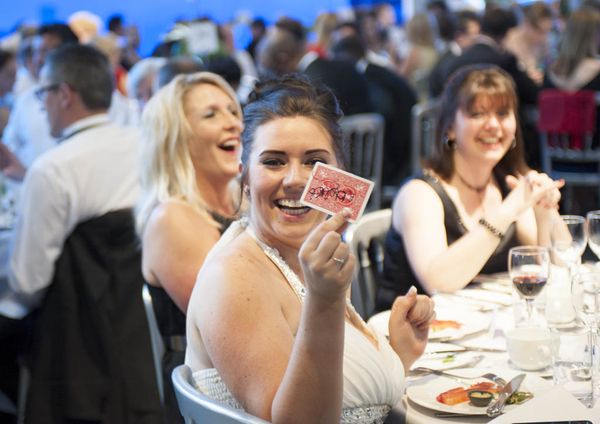 If you would like to know more about how I can make your wedding day even more magical for you and your guests, click here or to find out more about my bespoke wedding packages and mid-week offers, please do get in contact.
To keep up-to-date with my latest magic news, like my page on Facebook  or you can subscribe to my newsletter for tour dates, competitions and special offers.