Last month I performed at a place I've never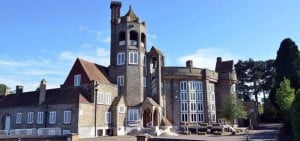 worked at before. The Grade II listed Cloisters in Letchworth is a smaller venue which isn't the most conventional wedding venue, but it turned out to be a really nice space. It makes a difference to me if I'm at a venue for the first time as I take extra time to meet the staff, make a good impression and get to know the way they work so we don't want to get in each other's way as we do our jobs.
Luckily, the weather was good on the day I was there – when the sun's shining there really is magic in the air!
At this particular wedding I was performing for 90 minutes at the drinks reception for around 70 guests, which was a perfect amount of time for the numbers involved.
People had come from far and wide for the evening, so my magic was important to bring strangers together and get them chatting. I think of these situations as ice breakers, where my job is to give people something to talk about at a time when they might have broken off into cliques.
After a lot of my tricks, I gave people souvenirs to keep as an added reminder of the wedding. As I was going round the room I noticed people showing each other what they'd got, and then talking about how they got them. Immediately they've got something in common and once the ice has been broken, they'll relax into their own conversations.
At this particular wedding, my magic came as a total surprise for the guests. The bride and groom wanted to keep me a secret, so I just turned up and started performing, which was a good laugh. Guests soon realised what was happening and let themselves go along with it and enjoy the show.
Keeping some of your entertainment secret can be a nice surprise for people, and really helps with getting people talking to each other. Of course, this it doesn't have to be magic, so if it's not your thing, there are plenty of other entertaining ways to energise your guests. But if you do like magic and want to create bewitching souvenirs of your wedding, contact me to find out how I can help.
"Christopher's entertainment was sublime. Everyone kept crowding round him to see the next miracle being performed. Top entertainment worth every penny. I have seen a lot of magicians but Christopher's magic blows them out the water." Megan and Brian Mugridge