What did you think of Houdini and Doyle?
The premier of this new ITV series its first and last airing on terrestrial TV. ITV's grand plan was to get us instantly hooked on the series so we'd subscribe to its pay channel, ITV Encore, in order to watch the rest. Sadly their plan has probably backfired as the programme's weak storyline and disappointing writing saved many of us the trouble of taking it off series link.
The programme's publicity tells us that the series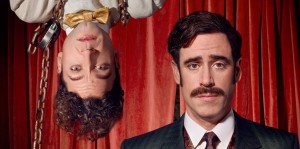 was based on real events, and it was certainly true that the two men were friends. Doyle, the creator of the ultra-rationalist Sherlock Holmes, was a devout believer in life after death and desperate to prove it. Harry Houdini, the illusionist, made it his life's mission to expose spiritualists and mediums as frauds by uncovering the parlour tricks they used to make money from the grief-stricken and susceptible. Before he died of a burst appendix in 1926, he even asked his wife to hold yearly seances to see if his spirit could 'get through' with a coded message – it never did and she gave up trying to contact him after ten years.
In the 1920s, Houdini became a member of the Scientific America committee which offered a massive reward to anyone who could prove spiritualists' methods were authentic. When Houdini began his crusade against fraudulent mediums, Doyle supported him because he believed there were some fakes who were damaging the legitimacy of the real spiritualists. But he never took Houdini up on his offer to show him how to spot the tricks the mediums were using, and continued to believe the majority were honest and would never cheat the bereaved and desperate.
So the friendship between the two men, unsurprisingly, broke down. Their falling out began with an incident where Doyle's wife purported to have been contacted Houdini's mother via automatic writing. Houdini was doubtful that his Hungarian mother who had a poor grasp of English could have written 15 pages of good and grammatical English. Not long after that, he publicly denounced mediums that Doyle was convinced were the genuine article, and their relationship broke irrevocably.
Like Houdini, I'm purely a magician who uses sleight of hand. And because I perform live illusions 'before your very eyes!', my magic is so much more entertaining than watching the telly. Contact me to find out more and get a quote to add a bit of magic to your wedding, party, corporate event or cabaret.