Wedding Venue in Hertfordshire
The Tewin Bury Farm Hotel is one of the leading wedding venues and corporate events location in the whole of Hertfordshire. The Four Star Hotel is the perfect fusion of old and new that provides guests with a luxurious and delightful stay.
The 17th Century Farmhouse provides an exquisite location for both wedding celebrations and corporate events. The stunning surroundings provides a beautiful setting for photographs to ensure that you are left with a special lasting memory of your day.
Tewin Bury Farm Hotel boasts 29 individually designed double rooms ranging from premier to Deluxe each featuring that something extra. Tewin Bury can also cater for meeting for capacities between 2 people all the way up to 500. With the selection of 10 converted conference rooms you are provided with everything you need to run a successful event.
Wedding Magic
Christopher Whitelock was thrilled to be invited to perform some mix and mingle magic at Greg & Melissa's wedding reception at Tewin Bury Farm and had a fantastic time. The reception of 120 evening guests took place in The Tythe Barn on the 26th July.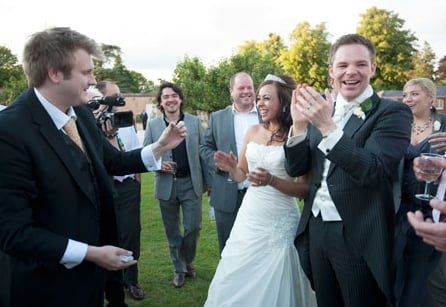 Mix and mingle magic is the perfect entertainment to liven up your wedding reception. It's a guaranteed way to keep your wedding guests entertained which leaves the newlyweds to be able to enjoy the night themselves.
Magic really does help to break the ice and get all of the groups of guests from different families and friendship circles interacting and having fun with each other.
If you would like to find out more about how Chris can make your special day even more magical get in contact today on 07747 141 238