The gift of wedding magic
It is 2016 and couples are very much up to date with what is trendy and fashionable to include on their big day.  They use Pinterest, google and watch clips on YouTube for hit and tips. This is also the case for modern day living. But they are looking for a traditional wedding and all these things do add up.
When you are making out your gift list for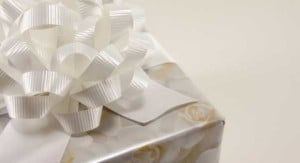 your wedding most couples will already have a kettle a toaster and a complete set of pots and pans. So why not think of something completely different that will not only enhance your special day but will leave lasting magical memories. Have an option for your family and friends to be able to get you some of the things that you really wanted for your wedding but could not fit into your budget.
The gift of wedding magic, I have been hired to perform often as a special wedding present for the bride and groom. To add the wow factor to a special day.
I have recently been asked on a number of occasions to be a wedding present for a bride and groom helping to bring a touch of magic to the big day. I absolutely love Performing magic at weddings, being able to be a part of a couples special day creating magical memories that will last forever. Seeing the reactions to the magic in the photos is priceless. I am usually hired by the Bride or Groom but occasionally I am also a wedding present idea from the Father of the Bride  or even the Best Man.
Magic is the best form of live interactive entertainment and why not ask your guests to make your wedding reception unforgettable.
This is my secret top tip for 2016, I know you want to maximise on what you can have on your wedding  for the budget you  have set aside so on your wedding list put a magician as a present and a group of guests can contribute together so I would attend the special day. This has happened on a number of  occasions when the Bride and Groom are massive magic fans and the look on their face when I am performing to everyone is priceless.
Other wedding present ideas have been to contribute towards a photographer, flowers and even the band. I must say though nothing brings a touch of magic to a wedding like a Wedding magician.
If you would like some more information or wish to hire my services  as a gift for your friend's wedding please do get in contact