Just because the summer's behind us, it doesn't mean the wedding season is over – far from it. If you are one of the ones amongst us who has their wedding planned for autumn, then you're in for a treat!
The main advantages of autumn weddings are that you're more likely to get the venue and entertainment of your choice on the day you want it. You'll probably find that your budget will go much further and, of course, you get to enjoy the beautiful sights of the trees as their leaves start changing colour for winter meaning you get that lovely autumn glow which is great for photos!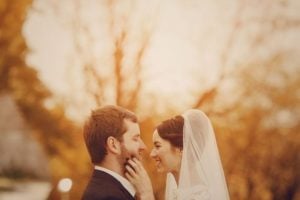 Autumn weddings can be beautiful
Despite the cooler days, autumn can be a magical season. If your venue has gardens and grounds with a lot of trees, the backdrop to your outdoor photos will be dazzling.
Your choice of venue can also reflect the season. Look for somewhere that offers a cosy feel such as a converted barn, or a beautiful country house where you can have open fires. An Orangery would also make a very good venue – it will give you an outdoor feel, enabling you and your guests to feel like they're in the beautiful grounds, at the same time as giving you all the advantages of being indoors.
I am performing at a wedding later next week at That Amazing Place for a lovely couple who opted for an autumn wedding for a couple of hours during the drinks reception. A magician can really bring your wedding to life as it's a very intimate form of entertainment, bringing your guests together whether it's helping to welcome them as they arrive or as part of the entertainment in the evening. I can even entertain your guests with my table magic as part of my service, in between dinner courses.
Keeping your guests warm in Autumn
In my experience of autumn weddings, guests really appreciate thoughtful touches that keep them comfortable and warm. In case some of them want to enjoy some fresh air and late afternoon sunshine, keep a few blankets handy so they can keep their legs warm, and have a few brollies by the door in case it's raining.
What better way to keep your guests warm than with afternoon entertainment from a wedding magician? The buzz and laughter that it creates in the atmosphere is one of the most effective ways to distract people from the cooler temperatures while ensuring they have a great time whether your guests are inside or outside.
If the sun shines for your drinks reception, your guests might want to mingle outside. Why not serve them mulled wine instead of sparkling wine, or even have the option of a non-alcoholic but indulgent hot drink such as hot chocolate. Warm canapés also go down well. And at the end of the evening, how about offering a canapé-sized cone of fish and chips as a little hot treat for your guests before they head for home in the crisp autumn night.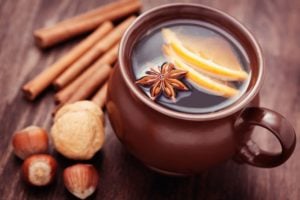 It doesn't matter if your wedding is indoors or outdoors, your guests will always need entertaining, and hiring a close-up magician always goes down well. I've performed at many autumn weddings and I can say first-hand that they are distinctly special. If you would like to put some autumn magic into your wedding, call me on 07747 141238 or contact me via my website. If you want to see what I can do, check out my videos to see how well my magic is received.